Whether you're looking for salon space to lease for a fresh start or if you're looking to do a full salon renovation to optimize your space and boost employee morale, there can be a lot to consider when it comes time to pick the perfect salon layout. You could be looking for more space to grow your salon business or wanting to refresh your current floor plan to give your barbershop a new look and feel. Either way, this article will be your one-stop shop to learn everything you need to know about selecting, creating and executing the perfect barbershop or salon layout.
From maximizing space and optimizing salon floor layouts to picking equipment that creates a streamlined and cohesive shop, you will learn it all.
How the Perfect Salon Layout Can Improve Business and Boost Morale
If you are wondering what an optimized layout may do for your salon, barbershop and business, here are some of the many benefits that can come from a better salon layout.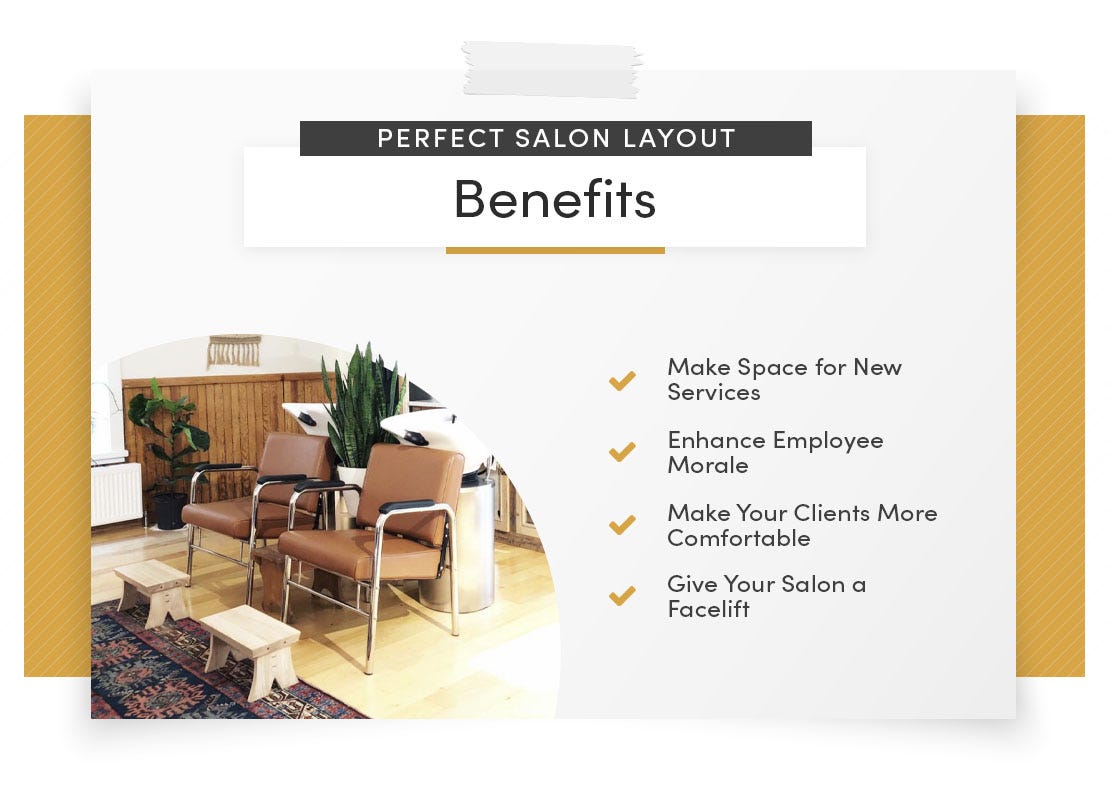 Make Space for New Services – Optimized salon layouts give you the possibility to maximize your space. With the new space you find in your salon, you can dedicate those areas to offer new services or even add more stations so your salon business can earn more revenue.
Enhance Employee Morale – If your stylists work in a salon that has a streamlined layout, they are more likely to be excited and happy to come to work. An organized environment with a logical flow can do wonders for your hairdressers' and barbers' mental state.
Make Your Clients More Comfortable – The last thing salon clients want to do is feel cramped during their visit to your salon. By improving your layout, you can make more room to prioritize the comfort of your guests. Make it a point to get comfortable and stylish reception area furniture so your clients have a nice spot to wait for their appointment, shop salon retail products and check out.
Give Your Salon a Facelift – Refreshing and restructuring your salon or barbershop's floor plan will give your space an instant facelift. Perhaps new styling stations can provide more storage and a better work environment for your stylists. Salon guests will certainly be intrigued by new styling chairs as well.
Do I Need to Change My Salon's Layout?
Whether you are uninspired by your current space or you find your business busting at the seams and need more space for your stylists and guests, a new layout and floor plan can easily give your salon a facelift, increase productivity and accommodate growth. Here are some questions to ask yourself before deciding whether or not your salon is in need of a new floor plan and layout. After you answer these questions, you should have a better idea of how and if you need to make a change. This will set you on the right path to envisioning your salon's new floor plan. Feel free to sketch layout concepts that come to mind, and take notes as you answer these questions. These notes could be very helpful to take to a contractor or interior designer.
Are we outgrowing the current layout?
Do I need more storage space in my salon?
Is it difficult for my stylists and guests to move around the salon?
What parts of my salon's layout aren't currently working?
What are some features I like about other salon layouts?
Could those features work for my salon?
Do my stylists like the layout?
Does the current layout complement the workflow of my stylists?
What are some aspects of the layout that could change to better benefit my stylists?
Which areas could be moved around and improved?
Would my business benefit from a new layout in terms of growth, space and being able to offer new services?
What would I like my salon to look like?
Shop Minerva Beauty's Salon Equipment Now
Factors to Consider When Selecting a New Layout
Rearranging your salon's layout could be as simple as moving around your salon stations or as extensive as remodeling your entire salon. But what works best for you? Here are some important considerations to make as you determine how to improve and select a new layout for your salon.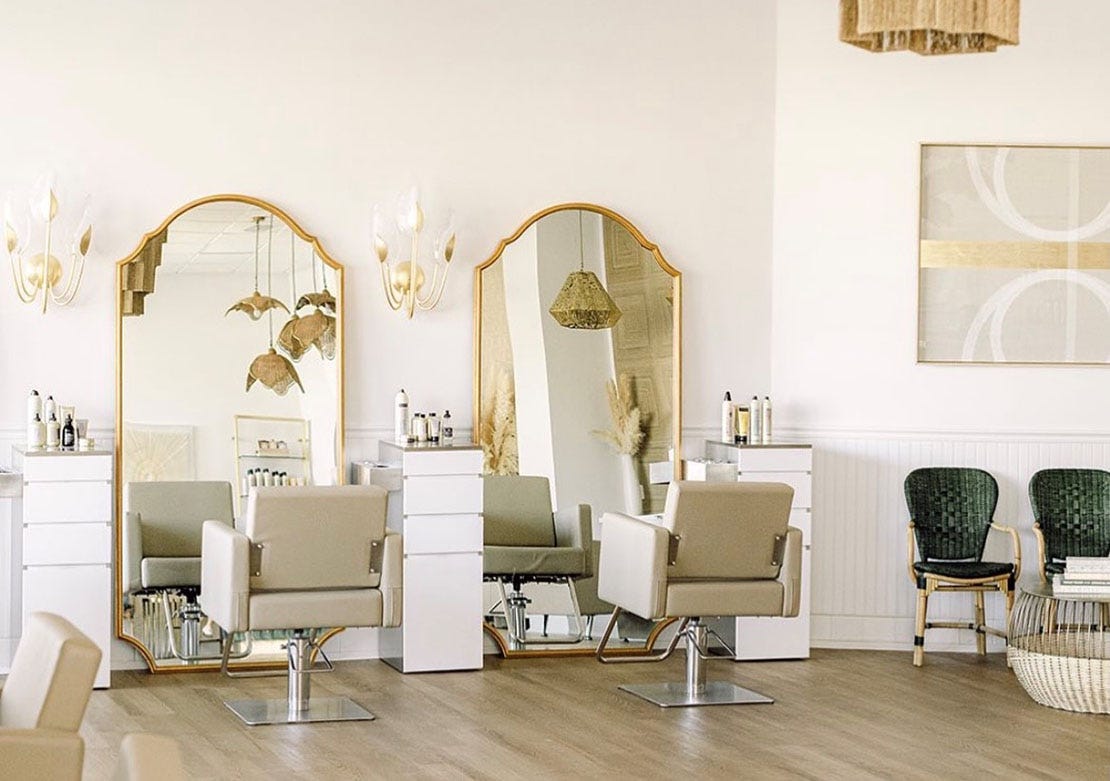 Determine a Budget — Whether your salon is in need of new styling stations or a total renovation, it's important to create a budget to stay within when you are redesigning your salon's layout. Determining your budget will allow you to see whether or not you have room to hire contractors or an interior designer to help. However, you can always DIY your salon's interior design. Minerva Beauty has loads of resources for inspiration and a handy 2D design tool too. If you need to invest in new equipment to accommodate this layout change, remember you can always take advantage of salon equipment financing.
Make a List of Needs and Wants — As you answered the questions above, you probably have a good idea of how you want your salon to look and the steps you need to take to accomplish that. It would be beneficial to make a list of needs and wants for your salon. For example, if your processing area or backwash system work well with your salon and don't need updating, but you would still like to renovate the area, that may be on the "want" list rather than "need." On the other hand, if you find that your stylists are desperately in need of more space and that their styling stations aren't helping their productivity and organization, this may fall under the "need" list. You may be able to splurge on an entirely new layout and updated equipment, but if you find your budget on the frugal side, the needs versus wants list is a great way to bring practicality into the equation.
Do It Yourself or Hire Out — Once you have an idea of the kinds of changes your salon will need from this layout change, it will be easier to identify whether you should hire a contractor to accomplish a new layout, or if you can recruit a few of your people to help you do it yourself.
Decide on Project Timing — As you start to plan the other aspects of changing around your salon's layout, you will also have to keep timing in mind. Unless you're able to accomplish your layout switch during off hours or days where your salon or barbershop are closed, then this project may affect business. Determine an amount of time that seems appropriate for the scope of the project and factor loss of business into your budget if you need to close the salon down for a few days.
Salon Layout Ideas
There are many different ways to lay out a salon, depending on the space you're currently in or moving into and the size. Here are some space-saving and space-optimizing layout options for every kind of salon.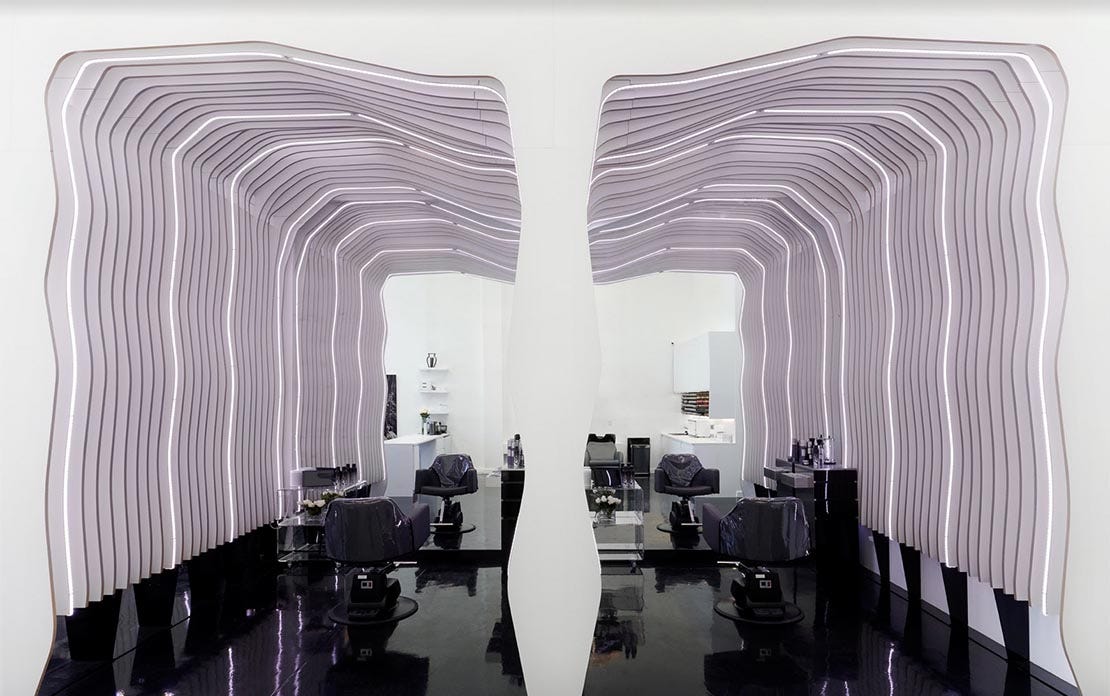 Salon Suite Layout – Salon studios and suites have become more popular over the last couple of years because they allow stylists to branch off on their own, as well as offer services in a secluded and quiet area. These spaces tend to be very small and compact so it's important to maximize your space. In this layout, you will want to have one or two styling stations with one wash area on the opposite side of the studio. To save even more space, make your processing station and tools portable. Use wall-mounted shelves to store or showcase products and hold things like towels. For more tips and tricks on salon suite designs and plans, take a look at our Guide to Salon Suite Designs and Supplies.
Open Salon Layout – If your salon has a wide and open space, take advantage of it by creating a floor plan and layout that makes your space feel even more expansive. Luckily, with an open layout, there are many options you could choose from. If you would like to place free-standing styling stations back to back — or get double-sided salon stations — in the center of the space, this is a great way to take advantage of an open floor plan. You can also consider mobile salon styling stations so you can move them when needed for education or events. Your guests and employees will be able to move freely around the salon while you can maximize the amount of styling stations you have set up. If you would rather leave your salon feeling very open, use wall-mount styling stations around the perimeter of your salon. This will leave the center of the space free for a reception and waiting area or you could eventually fill that space with mani-pedi services.
Narrow Salon Layout – If your salon is in the busy part of the city or just located in a smaller space, you may want to prioritize a layout that gives your salon a more open feel. For this type of shop or salon, you will want to line the perimeter of your salon with styling stations. There are many salon styling station options that accommodate this setup. For instance, you could pair a wall-hung mirror with a pedestal-style styling station. The mirror will allow you to put your styling chair closer to the wall than with other styling station setups. Alternatively, if you want to maximize storage in a small space, you could use tower styling stations with storage built-in. Try to leave as much room open in the middle to keep your salon airy. As far as a reception and waiting area go, you can have a tall slim desk in front with one or two chairs to either side of the front of the salon.
Multi-Room Salon Layout – If your salon or barber shop has multiple rooms, that's great! We recommend keeping the styling in one room and then offering washing and processing in the other room. You could also keep hair processing equipment next to your cutting and styling area and create a luxurious and relaxing salon shampoo area in the other room. If your salon offers specialty services like waxing, hair loss treatment or massages, you can dedicate your other room(s) to these kinds of treatments. You can also use extra rooms for your stylists if they are in need of a break room, an area to mix color or anything else that would help them do their jobs to their best ability.
Space-Saving and Business-Boosting Layout Techniques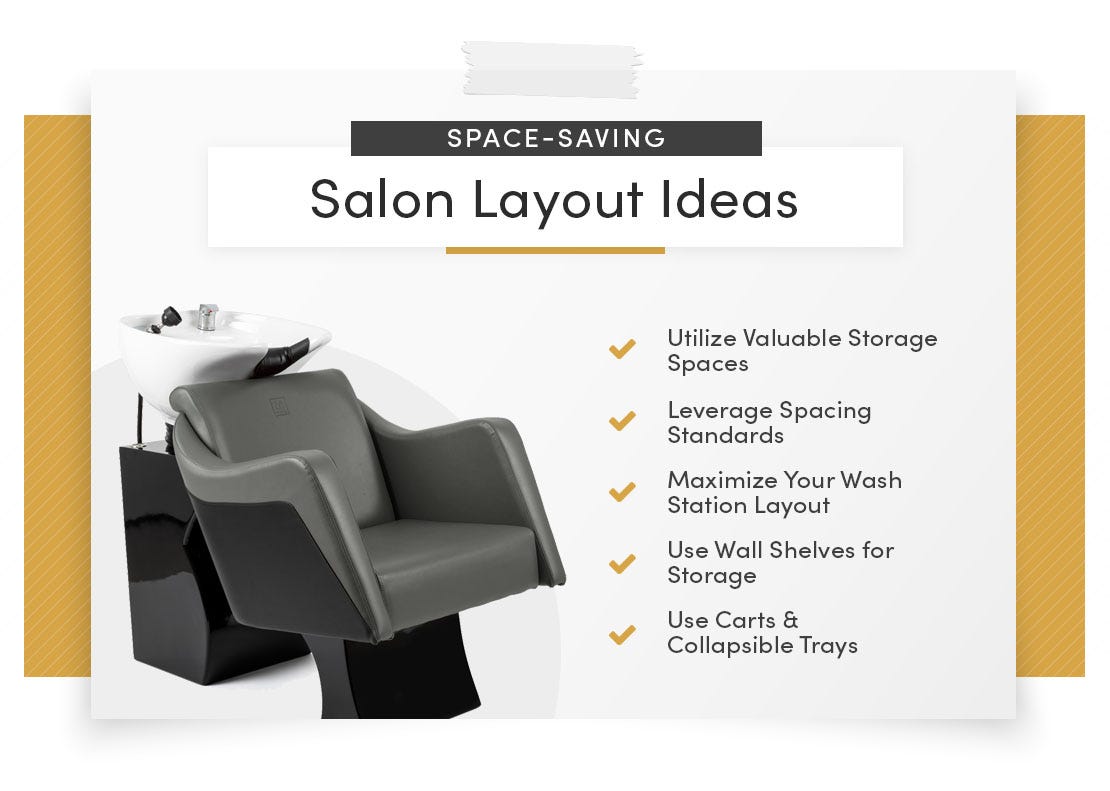 If space is your biggest concern and you need to find a way to optimize your salon's layout quickly, you may want to consider these quick salon layout ideas.
Utilize Valuable Storage Spaces – Of course, every salon and barbershop needs a storage room or supply closet to properly store supplies and products. But if you have an extra room or spare space that is being taken over by storage or a laundry room for all of your reusable items, you could opt for biodegradable disposable towels and capes so you don't waste valuable square footage on a laundry room. Instead, you could use this space as a private room for hair loss services or new spa treatments that you can add to boost your business.
Leverage Spacing Standards to Your Advantage – The industry standard for spacing out styling stations is 5 feet from the center of one chair to the center of the next chair. If you have stations back to back, you'll want to make sure your chairs are about 7.5 feet apart from the center of the chairs to allow for a walkway between them.
Maximize Your Wash Station Layout – If your backwash station is set up in a way that your stylists are washing a client from behind, you can place chairs so close that they are practically touching. Just make sure you have 30-36 inches behind the bowls so that your stylists can move freely while they work. Also, don't forget to leave a pathway to get to the back of your units, too. If your stylists wash clients from the side, you'll want to make sure you have 30-36 inches in between each bowl to give your stylists ample space to wash and move.
Wall Shelves for Storage – If you are in a narrow salon or a suite, you will want to free up as much space as you can. Floating wall shelves or cabinets can help you store things like products and towels to maximize your floor space. If you don't have room for a retail area in your salon, floating shelves could be the perfect and practical way to sell your products as guests are leaving.
Use Carts & Collapsible Trays – For small spaces, carts and trays can really cut back on the amount of clutter your salon may experience. These are essential portable surfaces that allow your stylists to have more space and organization.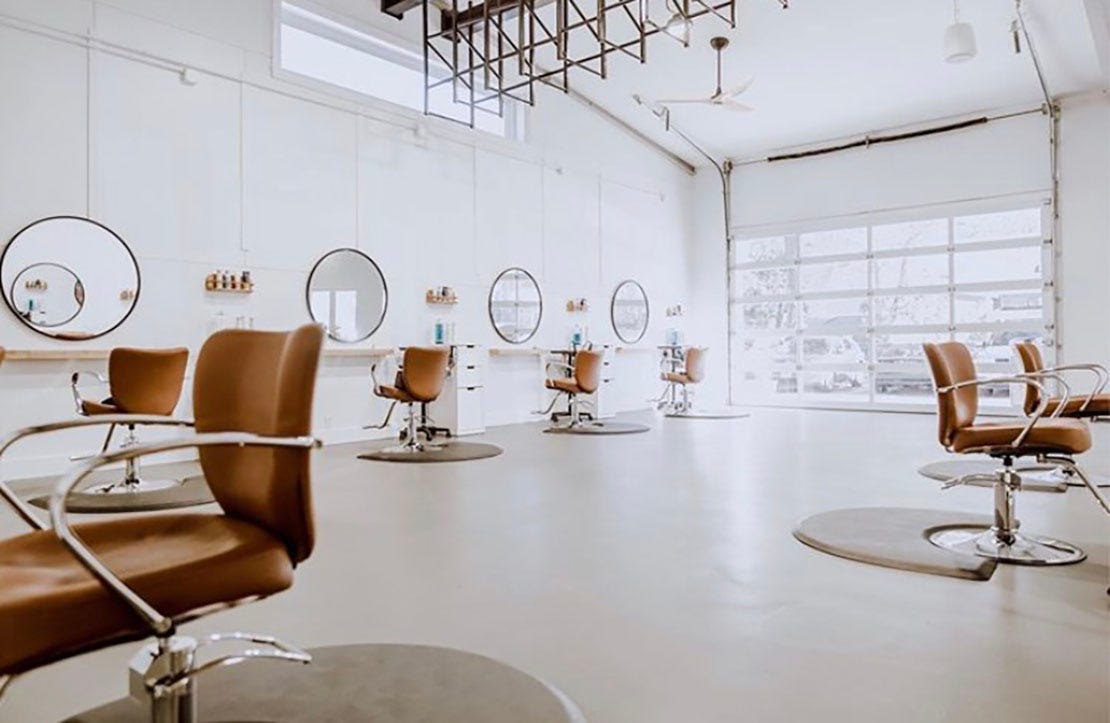 Whether you are just pondering a salon layout change or you are in the middle of a salon renovation, we hope this article will help guide your direction. A salon layout that accommodates its guests and stylists will help business boom while keeping employees and clients happy.
For reprint and licensing requests for this article, Click here.
Originally posted on Modern Salon